A Walking Guide to the southwest Peloponnese, Greece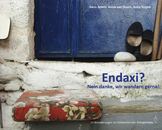 Endaxi?
No thanks, we're walking!
The 23 walks in Messinia, ranging from 8 to 22 kilometres, give an excellent impression of the amazing diversity of landscape and vegetation. The authors, Karin Arleth, Annie van Doorn and Anita Strijbis, know this southwest corner of mainland Greece exceptionally well and have chosen the walks carefully to give walkers a wide range of environments to discover.
There are silent, abandoned villages in the hinterland, shady olive groves and nature reserves. There are chapels, deserted monestaries, narrow paths through hills and glen as well as wild, romantic beaches all waiting to be discovered.

The Walk Descriptions are clear and easy to understand. A small map shows the basic route of each walk and the photographs give a good idea of the surrounding area. Each Walk Description includes a little background information on the places visited.
And for those whose prefer mountain biking: most of the routes are suitable for mountain bikes.
Endaxi?
Please send your orders to:
This email address is being protected from spambots. You need JavaScript enabled to view it.
Example: part of walk 15